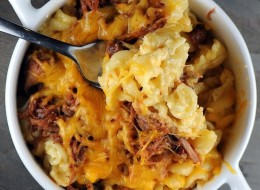 We're pretty sure that we don't have to convince you of pulled pork's greatness. With barbecue joints enjoying a renaissance across the country, we feel confident that most of you carnivores out there are 100 percent behind this pork dish. You've probably eaten countless pulled pork slidersand have had even more plates of pulled pork doused in the best kinds of barbecue sauce. But, have you ever thought to make pulled pork nachos? Or pulled pork buns?
If you haven't yet, it's time you did. Because there's a lot more to pulled pork than just plain pulled pork (like pulled pork and beer grilled cheese sandwiches). Not yet convinced that you should save your pulled pork for cooking? Let the recipes below persuade you.
---
President Obama answers your questions.
Watch live on YouTube at 5pm ET